PBT Imitation Goat Hair Milk-White Solid Tapered Filament
Product Name

Imitation Goat Hair

Application

PBT Solid Tapered Filament

Date

2018-03-06
PBT Imitation Goat Hair Milk-White Solid Tapered Filament



​1.Material:PBT
​2.Diameter:0.07mm(customization is available)
​3.Sizes:51mm-152mm(customization is available)
​4.Color:Imitation Goat Hair, Milk-White
5.Process:Solid Tapered
​6.Main Feature:Small Diameter, Pure pbt tapered filament, very soft.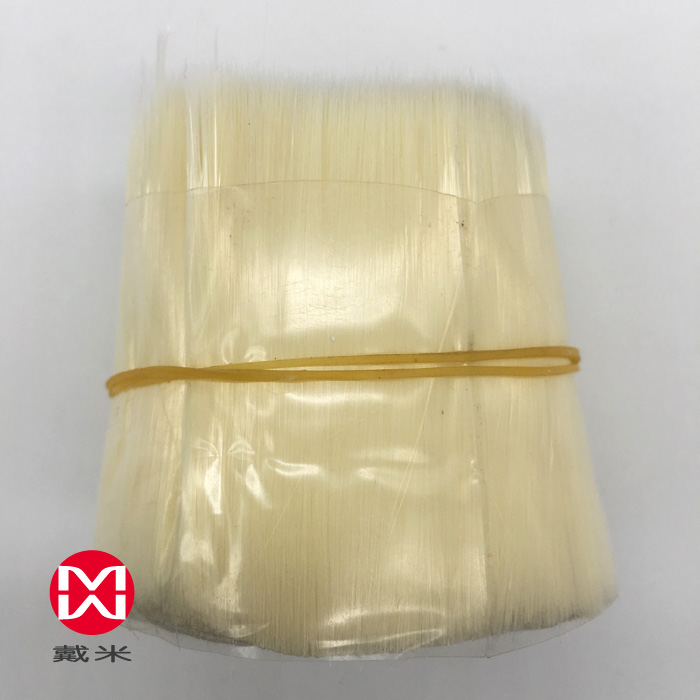 DAMI - BRUSH FILAMENTS EXPERT

DAMI – Specialized in Providing of Brush Filament and Natural Bristles.
DAMI is professional manufacturer and exporter of Brush Monofilaments & Natural Bristles.
Our main products:

​1. Application:Paint brush filament,Toothbrush filament, Abrasive filament, Artist brush filament,Cosmetic Brush filament, Flase Eyelash filament,Cleaning Brush filament, anti-bacterial filament,and etc.
​2.Material: PET filament, PBT filament,PP filament, Nylon 612 filament, Nylon 610 filament,Mixed Bristles Filaments
​3.Process:Flagged Filament,Hollow tapered filament, Solid Tapered fialment, Crimped Filaments
​4.Cross-Section:Round, Cross, Star, Triangle,Square,etc.
5.Filament Shape:Straight Filament, Crimped Filament

​Diameter:0.05-2.5mm
​Color:White,Black,Gold, Red wine, Green, Red, Grey,Pink, Purple. etc.
​Length:1200MM
​Cut Length:51mm-152mm
​​​
We can customize the quality according to customer's requirments or samples.